Bill DeBlasio – New York City Mayor – Democrat is serving as the 109th mayor of New York City. From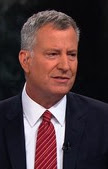 2010 to 2013 – he held the citywide office of New York City Public Advocate.  Mayor DeBlasio was just re-elected with nearly 70% of the popular vote.   Mayor deBlasio leads war against homelessness in the City one of the top problems facing New York.  He formerly served as a New York City Council member – representing the 39th District in the center of Brooklyn.  In 1997 – he was appointed to serve as the regional director for the United States Department of Housing and Urban Development (HUD) for New York and New Jersey under the administration of President Bill Clinton.  The following year – he served as campaign manager for Hillary Rodham Clinton's successful United States Senate bid.  In recent weeks the Mayor has visited Iowa, the place of the first Presidential caucuses in 2020.
Tune in to The Cats Roundtable with John Catsimatidis every Sunday morning at 9 am in New York on 970 AM: The Answer!, or find a station in your city by clicking here. Can't get to a radio? No broadcast in your city yet? Listen online! The show is streamed live at www.am970theanswer.com or on-demand at www.catsroundtable.com.
Listen on your favorite app